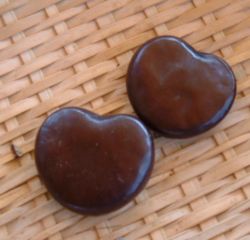 Details
Botanical Name
- Entada Gigas
Commonly Known As
-
Sea Heart, Lucky Bean, Fava De Colom
Entada Gigas popularly known as lucky bean is popularly believed to have instilled inspiration in Columbus to explore new land in the west. In the areas of Azores it is known by the name Fava De Colom which literally translates to Columbus Bean in English.
It is believed that Gulf Stream took along the entada gigas lucky beans to northern European Beaches where they were used by people to make snuff boxes and were polished.
Entada Gigas seeds also known as sea heart are kept by people as good luck charms. They have been believed to bring endurance, good luck, longevity, fertility and so on.
Entada gigas seeds have been praised all over the world to be excellent effective good luck charms for many centuries.
This could be also due to their ability to float ocean currents for many years even decades and still keep their fertility intact and at the same time they are also rare because they are only found on some specific beaches only. No wonder it is called A Sea Heart.
People generally keep them under their head when they sleep, women carry it in their bags and men in their pockets.
Availability
- Only A Few Left In Stock.
Price Of Entada Gigas Lucky Bean with shipping
-
2 seeds - INR 99
3 seeds - INR 125
5 seeds - INR 199
foxyform