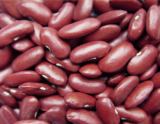 Kidney beans or Phaseolus Vulgairs is a very popular variety of beans and it can be eaten by baking, cooking or drying.
In the Indian state of Uttarakhand there are hundreds of different varieties of kidney beans grown and its crop is grown extensively as a cash crop by farmers. They are a favorite food of most people in India and apart from their rich taste and aroma are also rich in nutritional value.
Technical Details
Altitude
- Kidney beans or Phaseolus Vulgairs is grown at an altitude of about 1000 meters to 2000 meters above the sea level.
Botanical Name
- Phaseolus Vulgairs
Locally Known As
-
Chemi, Rajmah
Varieties
- Pant bean 2, Pusa paravti, Pant anupama, arka komal, jampa.
Nutritional Values
- Phosphorus- 410 mg, water- 12.0 g, fat - 1.3 g, protein- 22.9 g, iron- 6.8 mg ,carbohydrates- 60.6 g, calcium- 260 mg
Certifications
- All our organic products meet the USDA and European Union guidelines. Please contact us for more details
Availability
- OUT OF STOCK
Price For Indian Consumers
Rupees 135/kg
Powered by

EMF
Contact Form
Report Abuse