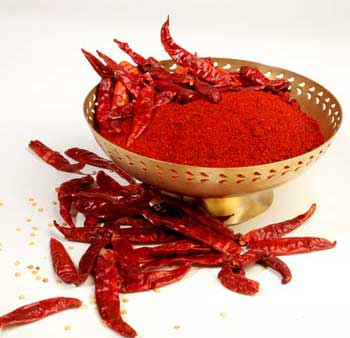 Chilli is a branched, erect herb which comes under the variety of shrubs and its fruit is used in flavoring and garnishing many dishes.
Our red chilli powder is used as a spice and hence red chillies are picked for this purpose when they are fully ripe. chillies are one of the most widely used spices all over the world.
Technical Details
Altitude
- Red chilli is grown at an altitude of about 800 meters to 100 meters above the sea level.
Botanical Name
- Capsicum Fruitescens
Locally Known As
-
Lal Mirch
Varieties
- Panjablal, Pant C1, Surajmukhi
Nutritional Details
- Capsaicin 0.34% (dry weight) , Dry matter-22.02%, Ascorbic acid-131.06 mg, Coloring matter-67.38 Asta units, Oleoresin 66.53 Asta units
Certifications
- All our organic products meet the USDA and European Union guidelines. Please contact us for more details
Availability
- Available for both bulk and small orders. Free samples for test and quality check available.
Price For Indian Consumers
Rupees 150/kg
foxyform