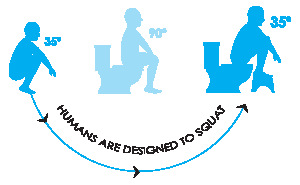 "1.Avoid Constipation
2.Economical & Durable
3.End Hemorrhoids
4.Pelvic Floor Issues
5.Prevent Colon Disease
6.More Effective Elimination
There have been many speculations in the past about the sitting position in the western toilet and how it may be leading to ailments like inflammatory bowel disease, constipation, hemorrhoids, appendicitis and in extreme cases even heart attacks.
If one goes through the available date there is a lot of evidence which supports the theory that the western toilet is indeed a big cause for increased cases of above diseases.
The modern western model of toilet has changed the natural position in which humans defecate.
The natural position in which human body has been designed to defecate is actually the squat position.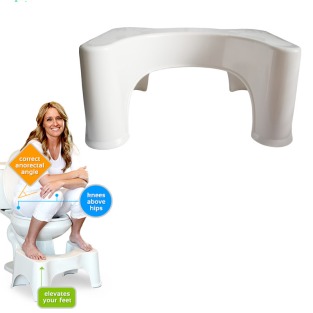 The advent of globalization has contributed greatly in spreading the culture of sitting toilet seats. People find them comforting but actually they are doing a lot of harm to their health. There are as many as 15 diseases which can be caused due to improper defecation posture.
That is why this squatty potty stool is a must have in every bathroom which has sitter toilet seat because it helps in correcting our defecating posture and helps in avoiding a lot of health concerns.
Price- 1995 including shipping and handling charges
For more information about product visit www.squatstool.in
foxyform