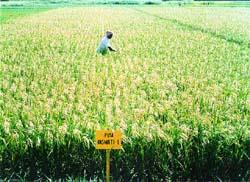 Pusa-1 basmati is a semi-dwarf plant which consists of almost all the features of traditional basmati including alkali content, grain elongation and rich fragrance.It is also known as ''todal'' because there are awns present in its flower.
Pusa-1 basmati rice is one of the most demanded rice species all over the world. Under the Seeds Act of 1966, Pusa-1 was declared as a variety of basmati.
Technical Details
Maturity Time - Generally around 125 to 135 days
Average Yield
- 45 quintal/hectare
Grain Size
- 7.2 mm when uncooked and 13.91 mm after cooking.
Botanical Name
- Oriza Sativa
Locally Known As
-
Basmati
Varieties
-Pusa Sungandha, Pusa-1, Pusa-2
Certifications
- All our organic products meet the USDA and European Union guidelines. Please contact us for more details
Availability
- Available for both bulk and small orders. Free samples for test and quality check available.
Price For Indian Consumers
- Rs 80/kg
foxyform